Being a guitarist is a whole lot of fun and an adventure in itself, but what are you supposed to do when it's time to put your instrument down for the day?
Chances are if you've been playing guitar for a little while, you probably already have a decent guitar stand. Guitar stands are great to have around if you're looking to always have your guitar on easy access.
Maybe you're looking for more secure ways to store your favorite guitar (electric guitar or acoustic guitar) while you aren't playing it, convenient ways to keep your bulky instrument out of the way in your crowded room, or even just a way to display your expensive investment.
Whatever your reasoning is, hanging your guitar on a wall is one of the most secure and convenient ways to store your guitar for both short-term and long-term use.
Thankfully, guitar wall hangers (or guitar wall mount kits) are relatively easy to install.
If you're unsure about where to start or what wall hangers for hanging guitars would be the best choice for you to make, keep on reading to learn about all of the information that you need to make the best decision that fits your personal needs!
Not everyone is just looking for a simple design that keeps their guitar up off of the floor- and that's totally okay! The 3D Hands wall mounted guitar holder gives you a secure and cool way to hold your precious guitar. Let's have a look if you like the design.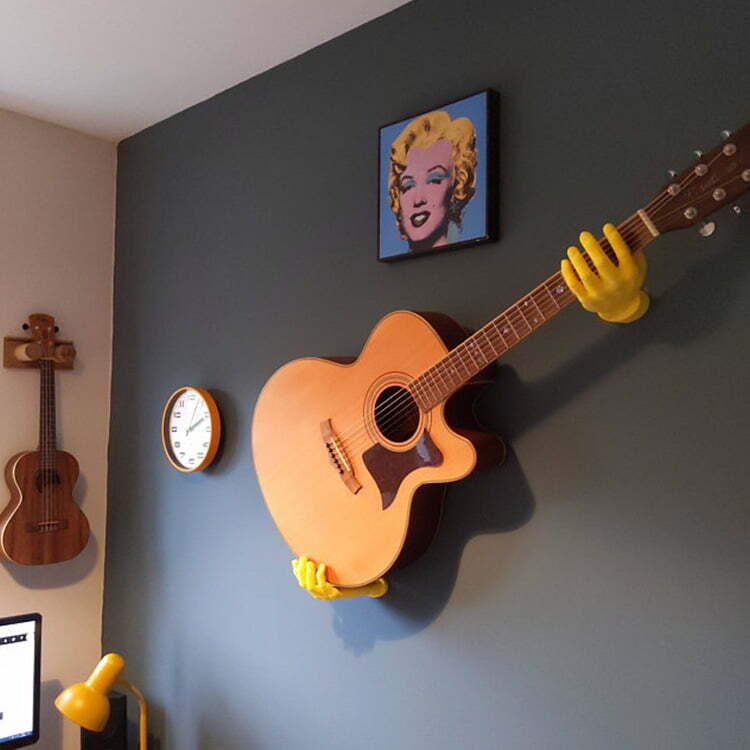 The build of the actual hanger isn't anything too fancy or complex. The yoke cradle design has been curved to cradle the guitar headstock, while also being able to swivel (swivel yoke) in order to be able to hold non-symmetrical headstocks.
Gator Frameworks also has the inside of their hanger rubberized in order to protect the finish of your guitar. One thing a lot of users really enjoyed about the build of this mounted guitar hanger is the amount of distance Gator Frameworks put between the wall and the guitar, which means that there is a less likely chance that your instrument (and your wall!) is going to get scuffed up if your guitar knocks against the wall accidentally.
Depending upon your personal preferences, some people in the guitar community really don't feel comfortable using guitar hangers or a guitar wall mount and prefer using guitar stands. If you happen to be one of those people who feel more comfortable using a guitar stand rather than a guitar wall hanger, know that there isn't an absolute need for having a guitar wall hanger.
However, having a wall hanger to store your guitar in can be incredibly beneficial. Keeping your guitar hung up on the wall helps to keep your guitar safely away from small children, animals, and any spouts of clumsiness you may have.
If you're someone who gets up a lot and moves around when you're playing guitar, storing your guitar on an unstable guitar stand or a chair (even worse) can increase the like hood of you dropping your instrument and either breaking your guitar or damaging the finish (depending on how far the guitar has to fall until it hits the ground).
Keeping your guitar stored on a wall hanger serves as an easy way to store your guitar if you need to put it down in a rush, but also makes as a great way to keep your instrument away from the clumsiness of you, your pets, and your children. However, storing your instrument on a wall hook also serves a great option if you are looking for a way to store your guitar for long-term and maybe even use it as a decoration piece!
While you may have some of your other musician friends may have told you about how insecure wall hangers are, you should know that wall hangers are only insecure if they aren't installed properly.
Can I use a wall hanger if I don't have an acoustic guitar?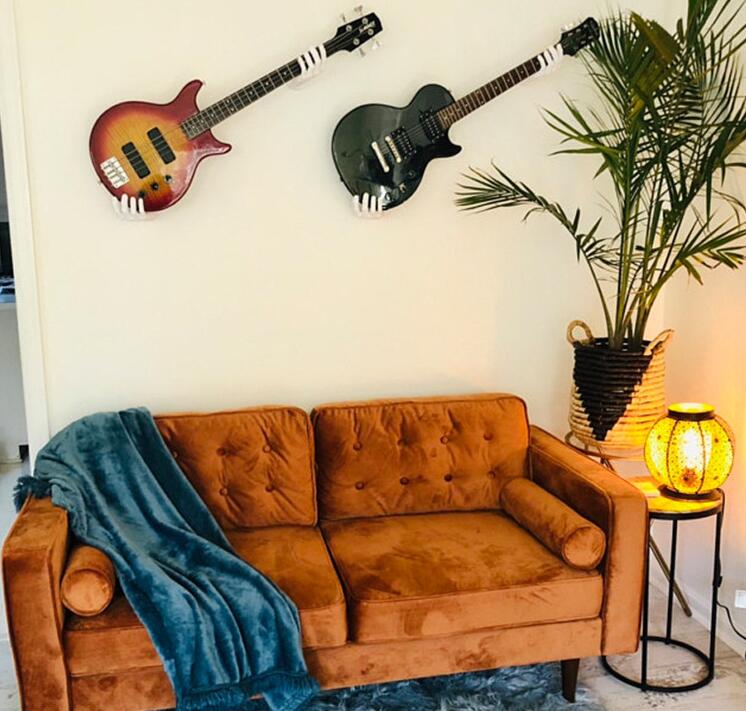 No matter if you have a bass guitar, an acoustic guitar, an electric guitar, a banjo, or an electric-acoustic guitar (any guitar size or different shaped guitars), you will still be able to use your average sized guitar wall hanger.
Depending on what your budget is, you can choose between a standard inexpensive guitar mount or invest in an expensive self-locking wall hanger. A self-locking wall hanger will close the grip around the neck of your guitar when you mount it, which adds an additional layer of safety, as you will have to physically lift your instrument to be able to unlock it.
There are also models available that hold your guitar by the strap pin, which allows you to style your instrument on your wall aesthetically!
If you have a vintage guitar, I would highly recommend re-thinking keeping your guitar on a wall hanger. The absolute safest way to keep your guitar is in a well-built hard case with a humidifier or a de-humidifier, depending on the type of environment your guitar lives in.
However, storing your guitar on a wall hanger is the next safest place to keep your instrument, especially if you take care to monitor the environment of the storage room you're using. Take time to ensure that you keep your storage room at the perfect level of humidity and using a wall hanger will be the best way to store and show off your guitars!
While storing your guitar on a wall hanger (neck or yoke or cradle) does serve several benefits to the life and well-being of your guitar, there is the obvious risk of your guitar dropping or the wall hanger pulling out if you don't have the hanger properly installed. The easiest way that you can avoid this risk is by purchasing a wall hanger that has outstanding performance.
Today, I have the top five best performing guitar wall hangers that have been positively reviewed by thousands of people in the guitar community that are certain to hold onto your guitar firmly and prevent a large amount of different accidents.
Just as an important tip, if your guitar has a nitrocellulose lacquer, your guitar isn't going to be compatible with your average run of the mill wall hang solution. All you need to do to make your instrument compatible with a basic wall hanger is add an extra layer between your guitar and the hanger. You can just use a cotton cloth as the extra layer, and you will be all set to go.
For all guitar hanging, I would highly recommend that you try to install your hanger into a stud. If the stud in your wall is already taken up or you can't access it, I would highly recommend purchasing superior drywall screws, bracket and drywall anchors when you go to install your wall hanger.
The wall anchors and screws will help to keep the weight of your instrument causing the hanger from pulling out of the drywall (drywall anchors), which would cause your guitar to come crashing down on the floor. While this would be an additional cost, it's better to be safe than to be out of an instrument!
Whether you have an electric guitar or acoustic variety, large neck or small neck, there's a wall hanger (bracket, cradle or fork arms) available for your setup.